Interviewed by Juli Black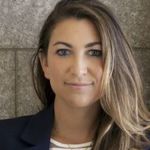 NorthPark Center
Taylor Zakarin
Manager of Art Programming
How long has the art collection been displayed at NorthPark? Briefly tell us about permanent vs. rotating collections:
NorthPark has been an amazing place to view public art since the 1960s, but since the shopping center has been under the leadership of Nancy A. Nasher and her husband David J. Haemisegger, there is more art here than ever before. Nancy so graciously works to ensure that the people of Dallas and North Texas get to shop and eat amongst art by some of the most renown 20th and 21st century artists at NorthPark. The way we display the art is not an exact science, but works are rotated depending on other events and happenings in the shopping center, when it is felt that an area needs a refresher, or when a work goes on loan to another institution (like Ivan Navarro's This Land is Your Land, which was sent to the Nasher Museum of Art at Duke University for an exhibition). Additionally, Nancy and David began introducing exhibitions of new and younger artists beginning with Ivan Navarro, and followed most recently, by the two new works by Leo Villareal (Buckyball, 2015 in CenterPark and Diamond Sea on Level One between Dillard's and Macy's).
| | |
| --- | --- |
| | |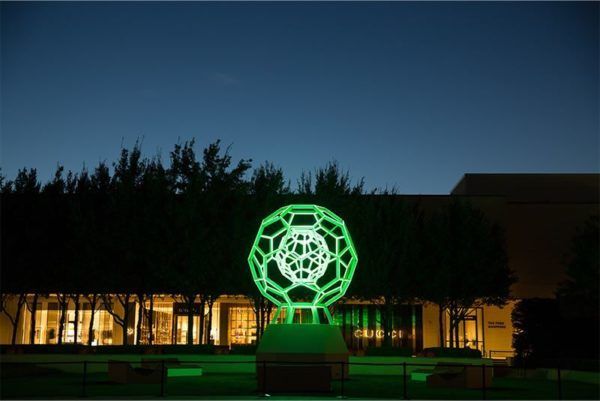 What was the original vision of offering Art to the public?
Being able to display art at NorthPark was very important to Raymond and Patsy Nasher, who founded NorthPark Center. Many people may never make it to a museum or gallery, whether it is because of admission prices or simply not having a particular interest. Mr. and Mrs. Nasher felt that by placing art in a shopping center, people who might never see art of that caliber would be exposed – they did not even have to like it, but as long as they noticed the art and confronted it in some regard, he achieved his goal of offering the exposure.
What is the vision for the future of this program?
My main goals for the art programming at NorthPark involve increased information and increased exposure for students. With the caliber of art we have at NorthPark, there is no reason why it shouldn't be included on the field trip circuit for schools (elementary school to college). While I do give quite a few tours to school groups, in 2016 I plan on ramping this program up even more, working more closely with schools and their art teachers to bring students to NorthPark for art tours. Museums often can be intimidating to younger students, and I think the ability to learn about art in an environment that they are comfortable with is conducive to actually connecting with the art they are looking at. As for information – we've begun phasing out our old labels and have in their place installed extended labels with copy about each work of art and the artist. Additionally, this information can be found on our NorthPark Center app's art tour.
How can someone get a tour? is there an App?
Right now we do not have an app or form for tours but because of the increased interest in tours, I am looking into a platform for the future. At present, if a group (school or otherwise) would like to schedule a tour, they can just e-mail me at [email protected] and let me know when, and we can discuss logistics! I love leading groups through NorthPark in the mornings when the shopping center is a bit emptier – it's a great time to observe all the behind the scenes work that goes into making it the pristine place you see when you are there shopping or eating or seeing a movie!
Recent &/or notable works/displays to tell us about?
I ABSOLUTELY encourage everyone to go see the two new Leo Villareal works I mentioned we've recently installed. Buckyball, 2015 in CenterPark is absolutely mesmerizing. The artist also designed "zero gravity" chairs that surround the piece, allowing viewers to sit back, relax, and enjoy the every changing light display. It's hard to nail down the beauty of the piece in words – grab a glass of wine from Breadwinners, La Duni, or Greenhouse Market and check out the work after sundown (that's my favorite time to see it!)
Can we create a special program for Preston Hollow Elementary School?
I would LOVE to work with Preston Hollow Elementary School – there are so many ways to engage elementary school students at NorthPark, whether it be through an art tour, art scavenger hunts, or various other art activities.
Please share your story of how you secured this amazing and exciting job. Where did you study?
I grew up in New York City on the Upper East Side – so Dallas is very different from home! I was lucky enough to go to a school that offered Art History (many, unfortunately, do not). From there, I went to Duke University and declared my major as an art history major my freshman year. The first class I ever took at Duke was Introduction to Visual Culture, and interestingly enough, it took place in the Nancy A. Nasher and David J. Haemisegger Auditorium in the Nasher Museum of Art on campus. I went on to join the Nasher Student Advisory Board as the museum liaison my sophomore year. My senior year I graduated with High Distinction for my thesis on Robert Rauschenberg and Bruce Conner. The thesis also culminated in an exhibition at the Nasher Museum of Art that combined works from the permanent collection at the museum with works on loan from the Robert Rauschenberg Foundation, who sponsored the project. It was as though from my first day at Duke University as an undergrad, I was destined to work with the Nasher family! When I graduated, I turned down an offer to work for a New York City contemporary art gallery to take an unpaid internship at the Nasher Sculpture Center. I had never met Nancy, and had applied through the website, reaching out to Kristen Gibbins. Long story short – Kristen became my boss at the NSC and later reached out to me when she heard Nancy wanted to create this new position, Manager of Art Programming, at NorthPark Center. She encouraged me to apply. And here I am today – I really have to thank Kristen, she had faith in me that I could tackle such a huge responsibility, and I can only hope I've lived up to her expectations.
Family/Kids/Pets:
My parents and older brother, Spencer live in New York City still – Spencer studied History, Environmental Science and Economics at Princeton, and is now working in Agricultural Private Equity. Unfortunately, I am pet-less – but whenever I see a Husky walking around Dallas, I am incredibly tempted to steal him/her.
What is your favorite time of year/holiday?
My favorite holiday has to be either 4th of July or New Years Eve – I absolutely love fireworks. My first meaningful memory is watching fireworks on New Years Eve with my family. To this day, it is not a Fourth of July or New Years without getting to see a proper fireworks show.