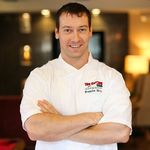 Interviewed by Juli Black  
The Cutting Edge: Personal Chef Service
Brandon Torre
Executive Chef
Our members range from busy large families on the go to singles living alone – Newborns to 90's – healthy to indulgent as well as entertaining/party needs… You offer Personal Chef services – give us the details! 
Personal chef services are great for many different reasons.  I offer three main services: Packaged meals, Dinner parties/ Events, and In-home cooking classes.

Packaged meals are prepared in your home on a weekly basis. The predetermined number of meals an portions are then packaged and refrigerated for easy reheating later.  This service is ideal for busy people/families and for those with dietary restrictions.
Dinner party events bring the restaurant home.  I create a menu from scratch based on your preferences and vision, then come and prepare, plate, and serve.  This often ranges from a family style affair to a elegant multiple course dinner.
In-home classes are a great idea for entertaining or just personal enrichment, no class is too small.  These are becoming more and more popular as gifts as well.
Tell us how long you have been a Chef? 
About 10 years.
What is your favorite dish to cook?
I like to think of myself as well rounded, but if I had to choose one it would probably be a fresh pasta of some kind.
You and your fiancé moved to Dallas last March, tell us your top 2-3 restaurants you've tried?
I have to admit, I haven't been out as much as I would like but as soon as I arrived in Texas I had to try Barbeque, Pecan lodge came highly recommended and didn't disappoint.  I've also heard good things about Gemma, and Abacus. I also had a great burger at Hopdoddy.
You teach classes at Sur La Table! What classes? What should we expect when we register? What should we expect when we go home?
I teach a wide variety of things at Sur La Table, it really just depends on what is scheduled for my time slot.  I am there most Monday and Thursday Mornings, as well as Wednesday nights.  My approach to teaching culinary is to try and allow the student to think independently about the process of cooking.  I try to instill technique rather than just reading from a recipe. For me it is more important to know "Why" than "How". This gives the cook freedom to improvise and experiment.
Can card carrying PHEHA members get a discount on classes and retail items?
Sur La Table gives a 10% off coupon to all class participants, good on most things in the store including future classes, good the day of the class only.
What are the 3 things every cook should own?
Good question, definitely at least one good quality knife, a 5-9 qt. heavy bottomed pot or Dutch oven, and a good quality blender or hand blender.  I definitely could not live without these three.
Can card carrying PHEHA members get a discount on the personal chef services you offer? (Limited time, to try, or ongoing?).
I am offering 10% off any service for PHEHA members' first time.  Just mention PHEHA when you book and show the card on the day of your event.
Where did you study?
I did my Bachelor's at Jacksonville University and culinary school at Johnson & Wales University in Denver.
Favorite thing about living in Dallas?
There is an amazing variety of cultures and people in this city, and it is growing at an alarming rate. Two factors that contribute greatly to a developing food scene. I'm excited to see what the future holds for Dallas' culinary market.
What / Who inspires your cooking?
My inspiration comes mainly from my Great-grandfather who came over from Italy in the early 1900s. He opened a restaurant in upstate New York and was obsessed with fresh. Fresh ingredients, fresh pasta, you name it.  Though I never met him, his philosophy rings true to me.  I think food is at it's best when minimally processed and allowed to feature itself.  Quality of ingredients is the most important part of a dish.
Hobbies?
I may sound over passionate, but aside from my love of football most of my hobbies involve food. I try to expand my knowledge and skill whenever possible. Right now I am working on dry curing salami and naturally fermented pickling.
What is your favorite time of year/holiday?
For anyone that knows me can tell you I am not a big fan of cold weather (Thank you Dallas for helping me out there). So spring was always very welcome to me as it starts to warm up.  I also enjoy the beautiful ingredients that start popping up, like wild mushrooms and spring garlic.  It makes for great menu planning.
Family/Kids/Pets: Do all share the love of cooking?
As I said I have a beautiful fiancé Cristi.  We share a love of food but I usually do the honors of cooking in our house.  The rest of my family are avid cooks, especially my mother, who has always done an amazing job.